WLINK rugged RT600 series RTU (Remote Terminal Unit) is a cellular communication device installed at a remote location that collect data, codes the data into a format that is transmittable and transmit the data back to a central station or master, it's been developed especially for data collection and data transmission in IoT / M2M application.
RT600 offers two serial ports and I/O ports, enabling it to connect to a variety of fields devices. With PPP, TCP/IP protocol, it could convert user serial port data to mobile 4G/3G/2G IP network data and transmit the data to customer's data master via transparent TCP/UDP protocol. DI ports support various of digital signal such as door sensor and smoke detector. AI ports support 4~20mA/0~5V signal such as temperature sensor and humidity sensor. Especially, WL-RT600 is programmable for users to customize DI/AI ports and Modbus properties according to various application requirements.
RT600 is a smart remote internet-ready RTU with unique compact hardware and software designs, making it an ideal solution for a variety of industrial automation and monitoring applications including Cold Chain Logistics, Oil & Gas, Power, Environment Protection, Water Conservancy and Lighting control monitoring etc.
Basic Features
Integrated 4G/3G/2G cellular communication

Support programmable function

Standard PPP, TCP/IP and UDP/IP protocol

Industrial pluggable terminal block

RS232 port for configuration

RS485 port for Modbus RTU

Support short message service (SMS)

Support transparent data transmission

Support data service center with dynamic IP address







2 AI and 2 Digital inputs

Memory data storage optional

Built-in RTC, support real-time clock

Support APN and VPDN private network

Support LED status indication

Wide range voltage input

External power on/off control

GPS Optional



Enhanced Features
Multiple operation modes

Always online, automatically connect to 4G/3G/2G when

powered on

Off-line when idle, online mode will be triggered by user

data/ring/SMS

Online/offline control by commands via user equipment

Data loop test

Flexible and utilitarian data

communications

Supports TCP/IP, UDP/IP, SMS and AT

Self-defines transparent or protocol communications

Self-defines customized data frame separator

Self-defines reconnecting interval

Self-defines heart-beat data frame

Parameters configuration and

remote management

Built-in parameters configuration menu


RTU Configuration tool based on PC

Remote parameters configuration via RTU Management

Platform

Remote parameters configuration by SMS

Parameters configuration via AT+ command
Diagram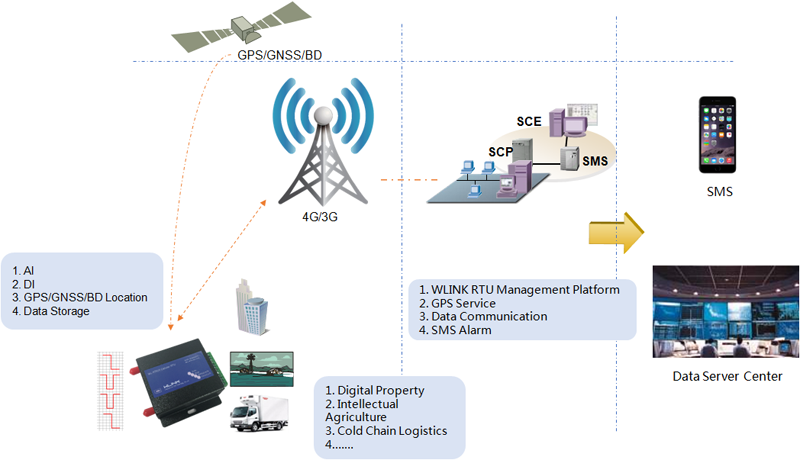 Dimension & Indication
Interface Indication


PIN

Interface

Descrption

1
V+

Power Vin+, Anti revers

2

GND
Power GND
3
RS485 B
57600bps as default
4
RS485 A
RS485 A
5
GND
GND for RS232 communication
6
RX
RS232 RX, 57600bps as default
7
TX
RS232 TX
8
DI1+
Digital Input, Dry Contact
9
DI2+
Digital Input, Dry Contact
10
GND
Short to DI
11
AI1+

Analog Input, 4-20mA or 0~+5v, 12bit Resolution

12
AI2+
Analog Input, 4-20mA or 0~+5v, 12bit Resolution