WLINK WL-G520 is the enhanced version industrial Powerful 4G LTE Router from WL-R520. It is equipped with the Gigabit Ethernet Port and supply 2.4G and 5G Dual Band WiFi comparing to the traditional WL-R520. Simultaneous 2.4G and 5G Wi-Fi gives the users two independent Wi-Fi network which also help reduce 2.4G Wi-Fi congestion and interference to ensure fast and reliable network service.
With the world's leading ARM Cortex A7 900MHz CPU, WL-G520 achieves data rates up to 1 Gbps and enables gigabit routing.
WLINK G520 also equips serial port as well as a variety of configuration option including GPS and storage. It offers redundant SIM Slot for automatic switching for reliable network, plus terminal block power capability. Advanced routing functionality allows network segmentation and protection of mission critical data. An extensive range of redundancy technologies ensures uninterrupted operation. Thanks to a rugged design and a high industrial temperature span, G520 are suitable for a wide variety of industrial applications.
Highlights
Ultra Performance

High-performance Cortex A7 900MHz CPU

High speed (Cat4/ Cat6/Cat11 )and reliable network

Simultaneous Dual-band 2.4G & 5G WAN

Built-in 5-Port GBE Switch, reducing clutter and the need for

extra equipment.

Optional extended storage




Absolutely Industrial Design

Industrial robust, heavy-duty metal enclosure and

connectors designed, good heating diffusion

SIM screw cover design for secure SIM card

DIN Rail Mounting design for Industry

Shock and vibration resistant

Scheduled reboot via Timing/SMS/Platform

Endure wide operating temperature range: -30 to 75 degree

Security & Protection


Recover from various failures automatically by built-in watch dog,

Multi-link detection

Strong electromagnetic interference Resistance

Power Non-polarity and Anti-reverse

Redundant SIM slots with automatic switching for reliable network.

Protect sensitive data by firewall and VPN tunnel

(IPsec/OpenVPN/GRE/L2TP/PPTP)










Cloud-based management & Maintenance besides

user-friendly WEB GUI

Efficiently management and quick configuration

Devices Status Monitoring

Remote Firmware Upgrade

Statistics and Aanalysis

Max support Number of Devices: 100,000+ units
Typical Application
Energy




Digital Oil Field, Coal Mine, Solar, Smart Grid




Utilities




Smart City, Traffic, Street lighting, Public Safety &Security, 4G Public hotspot, Environment monitoring, Video Surveillance, Smart Package Locker




Industry




Remote Telemetry, Tanking Monitoring, Automation, Remote PLC, Remote AMR, Remote Monitoring and control




Retail




ATM, POS(Point-of-Sale), Vending Machine, Lottery Machine, Branch network, Digital

Signage, Video Surveillance, failover between WAN&4G/3G




Transportation




Bus WiFi, WiFi on Board, Vehicle video surveillance, Fleet tracking and management,

Bus Advertising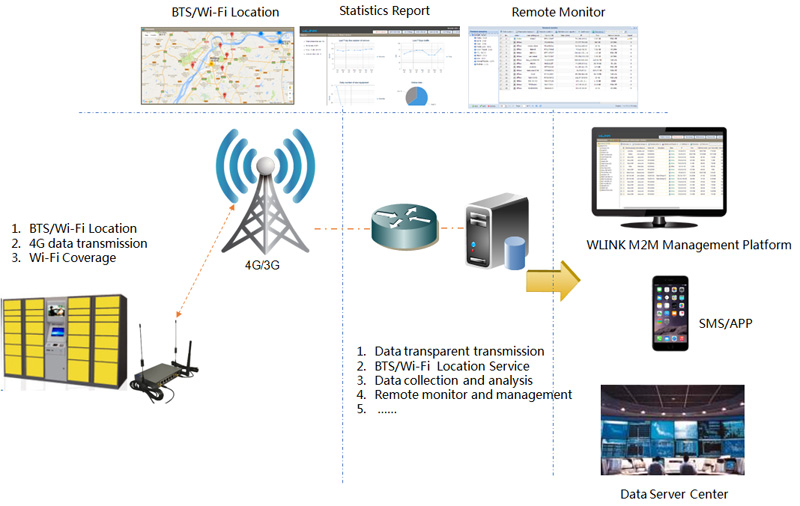 Structure