At present, LTE is without a doubt the de facto standard for most carriers across the globe when it comes to mobile broadband speeds, with 3G and other older technologies mostly considered as second tier speeds that are only offered in more remote areas.
But what's next? The obvious answer is 5G, and in fact we're already seeing the tech march closer and closer to reality. In the meantime, there's another tech that's starting to become more popular across the globe, LTE-Advanced(LTE-A) and LTE-Advanced Pro (LTE-A Pro).
1. What's LTE, LTE-A or LTE-A Pro
1.1 LTE
3GPP has completed the specification for Long Term Evolution(LTE) as part of Release 8. The work on LTE began in 2004 and completed in 2009 and first deployment occurred in 2010. LTE supports both FDD (Frequency Division Duplexing) and TDD (Time Division Multiplexing). The major advantage in LTE is high throughput with low latency. In reality LTE is offering 120 Mbps at the moment and the speed depends on the user's closeness to the tower and the number of users in a particular cell area.
1.2 LTE-A
LTE-A was specified within 3GPP Rel-10. The corresponding standard was frozen in June 2011. LTE-Advanced was defined to fulfill IMT-Advanced requirements, thus is seen as a 4G technology. The main new functionalities introduced in LTE-Advanced are Carrier Aggregation (CA), enhanced use of multi-antenna techniques and support for Relay Nodes (RN).
1.3 LTE-A Pro
LTE-A Pro was agreed by 3GPP in October 2015 as a marker for LTE for Rel-13 onwards. The Rel-13 freeze date is March 2016. The new name is used to mark a point where significant improvements with regards to LTE-Advanced are made. LTE-A Pro is the new official 'marker' approved by the 3GPP to denote the next stage in development towards 5G, following LTE-Advanced (LTE-A) and LTE before it. LTE-A Pro will be used for specifications defined under 3GPP's Release 13 (R13) and Release 14 (R14). LTE-A Pro will build on previous iterations to further improve the LTE platform as well as address new use cases.
2. Main specifications in LTE, LTE-A and LTE-A Pro
Main features during LTE, LTE-A and LTE-A Pro as following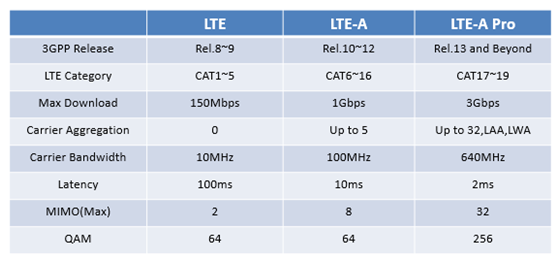 2.1 Date Speed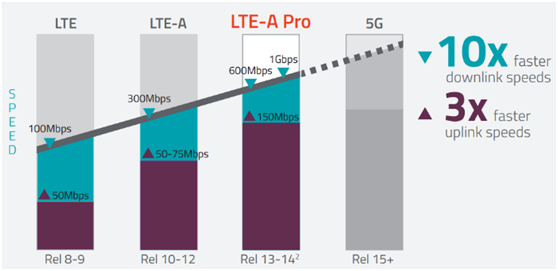 2.2 Carrier Bandwidth