What's NB-IoT
Narrow Band-Internet of Things (NB-IoT) is a standards-based low power wide area (LPWA) technology developed to enable a wide range of new IoT devices and services.
NB-IoT uses a subset of the LTE standard, but limits the bandwidth to a single narrow-band of 200kHz.
NB-IoT focuses specifically on indoor coverage, low cost, long battery life, and high connection density, significantly improves the power consumption of user devices, system capacity and spectrum efficiency, especially in deep coverage. Battery life of more than 10 years can be supported for a wide range of use cases.
NB-IoT Modes
The technology can be deployed "in-band", utilizing resource blocks within a normal LTE carrier, or in the unused resource blocks within a LTE carrier's guard-band, or "standalone" for deployments in dedicated spectrum as below.
In-band utilizing resource blocks within a normal LTE carrier
Guard-band utilizing the unused resource block within LTE carrier's guard-ban
Standalone utilizing stand-alone carrier, e.g. spectrum currently used by GERAN systems as a replacement of one or more GSM carriers.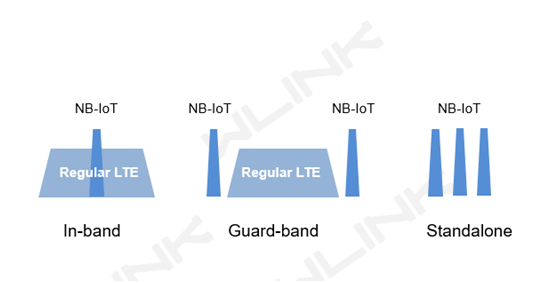 Why NB-IoT Business?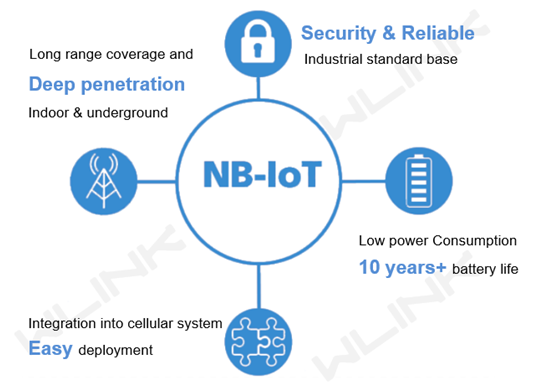 NB-IoT Applications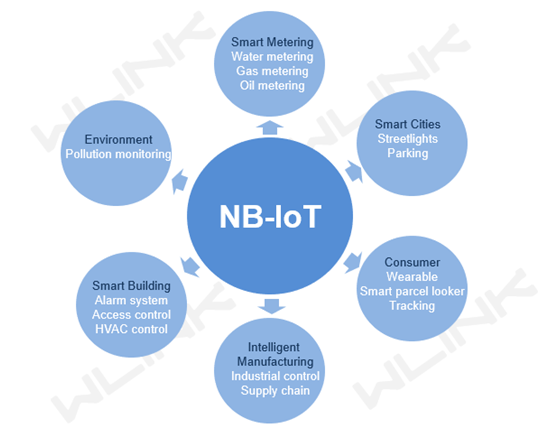 NB-IoT, CAT1 and LoRa Comparison
| | | | |
| --- | --- | --- | --- |
| | NB-IoT | CAT1 | LoRa |
| Release | 3GPP Rel.13 | 3GPP Rel.12 | LoRa Alliance |
| Frequency Bands | Licensed bands(LTE) | Licensed bands(LTE) | Unlicensed band |
| Battery | ~10years | ~10years | ~10years |
| Max Download | 100Kbps | 10Mbps | 5Kbps |
| Coverage | 15KM | 11KM | 15KM |
| Carrier Bandwidth | 180KHz | 20MHz | 500KHz |
NB-IoT in WLINK product
Wlink has its D80 series DTU supporting NB-IoT, D80 is modem (called as DTU as well) which convert the serial data (RS232/485/422) into IP data and then transfer to data center through cellular network.