Introduce
Telematics combines wireless communication technology, satellite navigation system, cellular network communication technology and on-board computer. It is considered as the future star of automobile technology.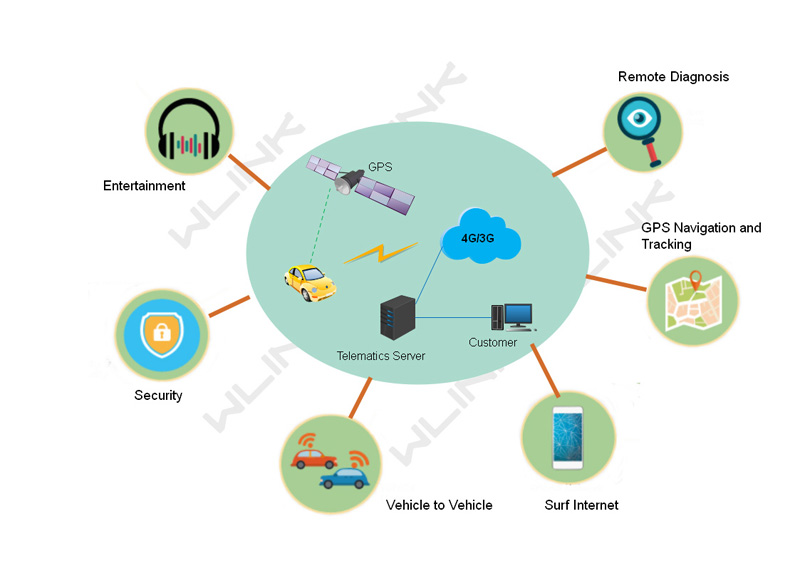 Telematics Operation Modes
Telematics system operation mode is extremely complex, which may basically be divided into two parts as vehicle positioning system (GPS) and information access (Access).
1. In the GPS operation mode, vehicle built-in GPS system and geographic information system (GIS) to provide navigation services as with topographic map (3D) or plane (2D) map.
2. In Access operation mode, establish a two-way communication with customer service center and information operators to receive and send information such as vehicle management, dispatching, transportation, hotel, entertainment, meteorology, booking via 4G/3G cellular network.
Telematics main features
1. Vehicle tracking. Monitor the location, movements, status and fleet of vehicles, to reduce your stress, improve your fleet's performance.
2. Roadside Assistance. Press SOS button to send alert message to service center to access to contact the rescue when a car accident or a vehicle failure accident.
3. Remote Diagnostics. Automatic detection, maintenance diagnosis according to vehicle condition.
4. Fleet Management. Included vehicle maintenance, vehicle tracking and diagnostics, driver management, fuel management, health and safety management and dynamic vehicle scheduling.
5. Security Monitoring. Remote and real-time monitor vehicle video anytime.
6. Enjoy 4G network and entertainment. Enjoy internet and abundance offline programs, which makes journey become more exciting. Increase ridership and customer attraction by providing additional network service to passengers.
Telematics Typical Application
When a fault occurs in the driving vehicle, vehicle will connect to service center via cellular network for the remote vehicle diagnosis Meanwhile, the vehicle computer will record the status of the main components of the vehicle, and provides accurate fault location and causes for maintenance personnel anytime. The vehicle computer might acquire GPS information to view traffic maps, traffic information, and connect cloud server to acquire security and security services and entertainment information services. Passengers might play games, watch video, surf internet including finance, news, E-mail, etc. via Wi-Fi captive portal service in vehicle. Furthermore, users can not only know traffic information, near parking lot, but also connect with the home network server, timely understand the home electrical operation, safety and visitor visits in third party telematics service.
Telematics into the near future
With the coming of 5G cellular, telematics technology will develop rapidly, and make pilotless automobile become more and more popular.