Narrow Band-Internet of Things (NB-IoT) is a standards-based low power wide area (LPWA) technology developed to enable a wide range of new IoT devices and services. NB-IoT uses a subset of the LTE standard, but limits the bandwidth to a single narrow-band of 200kHz.
NB-IoT focuses specifically on indoor coverage, low cost, long battery life, and high connection density, significantly improves the power consumption of user devices, system capacity and spectrum efficiency, especially in deep coverage. Battery life of more than 10 years can be supported for a wide range of use cases.
WLINK rugged D83 serial port to IP modem is a NB-IoT/CAT-M1(eMTC) modem developed especially for IoT/M2M application. It provides RS232/RS-485 interface and equipped with PPP, UDP and CoAP protocol, it can convert the user data into LTE NB-IoT/CAT-M1 network and transmits the data to the customer's data service center through complete transparent data channel, allows a simple and rapid integration of cellular network connectivity into IoT/M2M application.
D83 series modems are unique compact hardware and low power consumption designs, making them ideal solution for a variety of industrial automation and monitoring applications including smart water/oil/gas, Power, Environment Protection, Water Conservancy and Lighting control monitoring etc.
Basic Features
Integrated NB-IoT/CAT-M1(eMTC ) communication

Optimized EMC design

Support APN and VPDN private network

Support transparent data transmission

Support data service center with dynamic IP address

Standard PPP, UDP and Coap protocol

RS232/RS485 optional for data communication

Support LED status indication

Wide range voltage input

Smart power management

External power on/off control

Reliable, flexible and easy to deploy
Enhanced Features
Multiple operation mode

Always online: automatically attaches NB-IoT/Cat-M1 when powered on

automatically redials when off line and keep line alive

Offline when idle and trigged online by user data, ring or SMS

GPRS channel and SMS mutual backup

Online/offline control by commands via user equipment

Data loop test

Supports UDP and CoaP
Multiple data service centers communications

Supports up to 4 data service centers communications

Supports main/backup data service centers communications

Supports customized setting for each data service center
Flexible and utilitarian data communications
Supports TCP/IP, UDP/IP, DDPTM, SMS and AT

Self-defines transparent or protocol communications

Self-defines customized data frame separator

Self-defines reconnecting interval

Self-defines heart-beat data frame
Parameters configuration and remote management
Built-in parameters configuration menu

Configuration tool based on PC

Remote parameters configuration via data service center

Remote parameters configuration by SMS

Parameters configuration via AT+ commands
Typical Application
Power SCADA

Oil field,

Coal mine,

Weather forecast

Environment protection,

Water conservancy,

Heating, natural gas,

Petroleum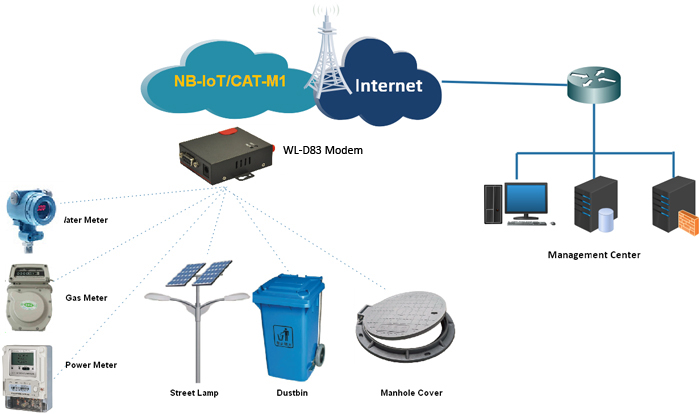 Product Structure