Background
Telematics is a big concept and wide applicaiton, basically consists of Telecommunication and Informatics, which can be applied to vehicle information services. Using Cellular 4G/3G communication and GPS satellite navigation technology to provide vehicle owners the information services that they need, including Satellite positioning, roadside assistance, remote diagnostics, 4G+/4G network and Entertainment, security monitoring, fleet management and other services. In the near future, Telematics is also integral to the creation of self-driving vehicles.
WLINK Solution
Equiping WLINK 4G/3G cellular router with integrated CANBUS port to collect vehicle data, and send to the service center for remote monitoring and vehicle diagnosis. And with built-in GPS to monitor the location, movements and status so as to improve your fleet's performance and reduce your stress. In addition to Wi-Fi, the cellular networks -- whether 3G, 4G or upcoming 5G -- could be used to facilitate communication between remote vehicles and monitoring center. Faster wireless networks enable more advanced onboard services such as vehicle firmware updates, and multiuser Wi-Fi hotspots and video for passengers.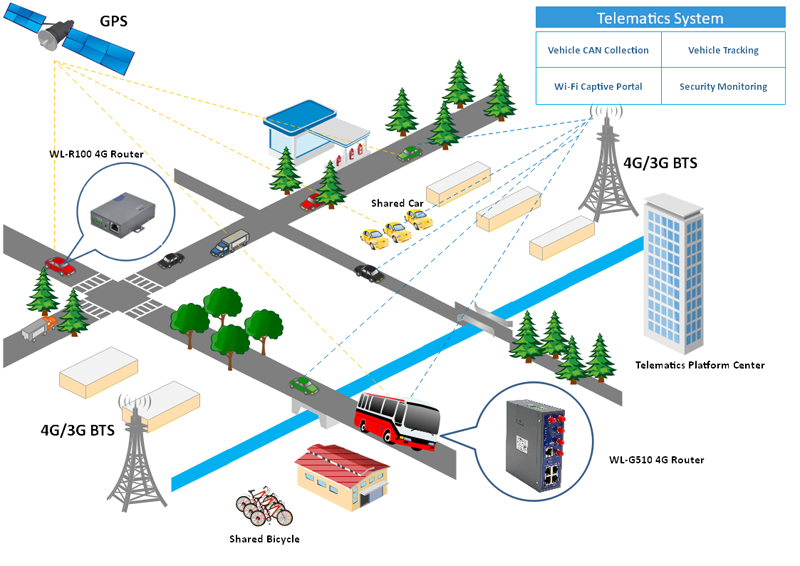 Features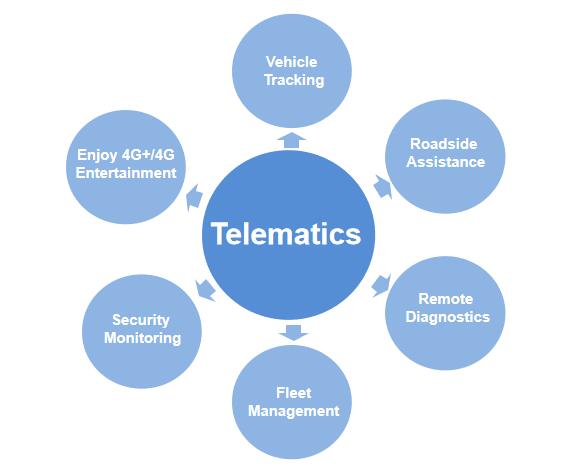 Vehicle tracking. Monitor the location and status of the vehicle to improve fleet performance and reduce management pressure.

Roadside Assistance. Press SOS button to send alarm messages to the service centerin once an accident or vehicle breakdown.occurs.

Remote diagnosis. Automatic detection and maintenance based on vehicle conditions.

Fleet management. Vehicle tracking and maintenance, driver management, fuel management, safety management and dynamic vehicle scheduling.

Security monitoring. Real-time video surveillance.

Enjoy 4G mobile network. Make your journey more funs with high-speed WiFi.
Benefit
Improving productivity through optimizing routes and reducing operating costs by increasing fuel efficiency.

racking and reallocating fleet units as needed to reduce response time and give customers more face-to-face time, thereby improving customer service.

Enhance fleet safety and security through monitoring dangerous driving habits.

Regulate driver behavior based on path tracking and analysis.

Shorten downtime by anticipating potential vehicle maintenance events and reschedule routes and drivers accordingly.
Related Product
WL-G500/G510 series 4G router
Industrial robust, heavy-duty metal enclosure for shock and high vibration environments

High data speed via 4G+ or 4G network, 3G backward compatible

Strong electromagnetic interference Resistance

Built-in watch dog, Multi-link detection

Integrated CANBUS interface

Gigabit Ethernet ports for networking flexibility

High speed dual-band 2.4G/5G Wi-Fi and integrated hotspot functionality

Dual SIM for Failover / Backup between two different operators