Background
With the application of the smart Trash Can system, the situation of full bin, disorderly trash stacking and stinking trash can be completely improved. The system adopts a combination of sensor technology, mechanical transmission device, 4G/3G IoT technology and other technologies to provide a fast, accurate and convenient waste management system.
WLINK Solution
The smart Trash Can is equipped with gravity sensor, ultrasonic sensor, smoke sensor, temperature and humidity sensor, peculiar smell sensor to acquire the Trash Can data, and transmit the data to the cloud platform through the 4G/3G network. To realize the remote monitoring and management of Trash Can, and timely sense the overflow of Trash Can to generate an event to dispatch relevant personnel and vehicles for trash removal. The solution can not only save time, energy, cost and improve work efficiency, but also reduce CO2 emissions.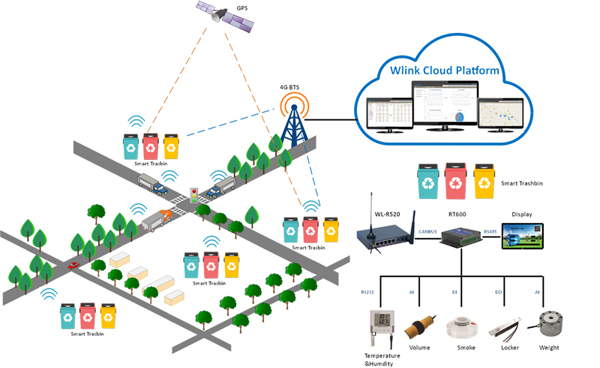 Solution Composition
1)Trash Can and Mechanical Transmission Device
Trash feeder with infrared induction cover opening function and cover with speed reducer.

Hydraulic power system for lifting capacity not less than 260kg with safety confirmation function.

Lifting mechanism. Built-in 660L Trash Can with drop safety device and leveling mechanism;

Drainage system. Automatically remove water in the foundation pit.

Deodorization system. Using Anion technology for trash disposal in the bin and improve the bin and surrounding environment.
2)Sensors
Weight sensor. To real-time check the weight of Trash Can.

Ultrasonic distance sensor. To real-time detect Trash Can overflow state.

Smoke sensor. To real-time detect smoke in the trash in and alarm.

Temperature and humidity sensor. To real-time detect Trash Can temperature.

Odor sensor. To real-time detect the odor in Trash Can, and run the deodorization system once odor is exceed.
3)Data Acquisition and Communication
RT600 RTU supports 2 RS232 ports, 2 RS485 ports, CANBUS Interface, 2 AI, 2 DI and 1 DO(Relay) ports

4G Router supported 4G communication with GPS and CANBUS Interface
4)Cloud platform
The cloud platform will quickly, timely and accurately display the information and push the relevant information to the relevant person in charge and provide a fast, accurate and convenient waste management platform which including feature as following.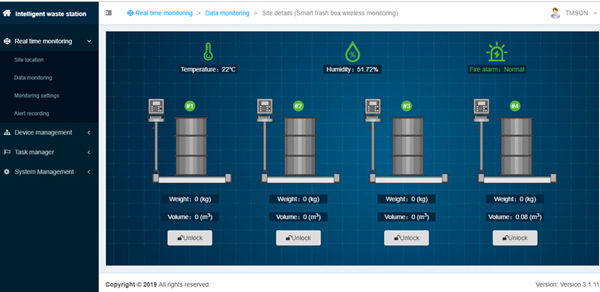 Display the sensors data real-time, and show the site distribution in the panoramic map. It's convenient to control the project deployment and operation status.
Timely control, maintain and manage remote equipment via real-time detection of the remote sites data to ensure the accuracy and availability of the equipment, and extend the service life of the equipment, and improve the system stability.
Store temperature, humidity, fire alarm, weight and capacity data in the database, and generate all kinds of data information as requested.
Benefits
1)Automatic induction
Open/close the bin via induction to avoid the problem of viral infections caused by contact with Trash Cans. At the same time, the feeder port can be automatically closed to reduce the spread of waste odor.
Remote real-time monitoring
It's easy and convenient to collect temperature, humidity, fire alarm, weight and capacity any time.
2)Alert in time
Smart bin will send an alert when Trash Can is about to overflow. Platform will send trash removal command to solve the problem of secondary pollution caused by the trash wasn't removed in time.
3)Clean and Beautify City
It's convenient to design Trash Can appearance according to different locations and requirements to available to enhance the city image. The accurate trash sorting and fast cleaning make city much cleaner.
Related Products
1)WL-R520 series 4G router
Industrial robust, heavy-duty metal enclosure for shock and high vibration environments

High data speed via 4G+ or 4G network, 3G backward compatible

Strong electromagnetic interference Resistance

Built-in watch dog, Multi-link detection

Integrated CANBUS interface

Equipped with Dual SIM for Failover or Backup between two different operators
2)WL-RT600 CANBUS RTU
Industrial robust, heavy-duty metal enclosure for shock and high vibration environments

CANBUS Interface

Strong electromagnetic interference Resistance

Built-in watch dog, Multi-link detection

Multiple operation modes

Rich Serial and I/O interfaces