Background
Demand for self-service terminal in many retail business sector is growing.
Lottery machine, as one kind of self-service terminal, is distributed throughout downtown. Traditionally, the network relied on Fiber/ADSL to provide remote connectivity to the center, however, there are quite a large number of remote location lacking wired coverage or it is expensive and difficult to deploy wire network infrastructure.
In order to overcome the above limitation, wireless mobile network for data transfer from machines is getting more and more popular. WLINK industrial grade 4G/3G router, providing mobile wireless network for data connectivity gives you freedom to change your lottery machine any time it is needed. No expensive investment in wire network infrastructure is needed then. The cellular signal coverage is all you needed.
We well know that security, stability and reliability are the key requirements for lottery machines, Wlink industrial 4G/3G router combines all of those requirements and provides reliable flexible and cost effective mobile networks, could access to Lotto private network based on existing IP infrastructure and realize remote secured data transmission without considering distance and geographical conditions for Lotto machine.
Furthermore, WLINK Management platform, working with WLINK cellular router as a optional part of the solution, monitor the connectivity, signal strength, network availability, manage and control the router remotely.
Application Topology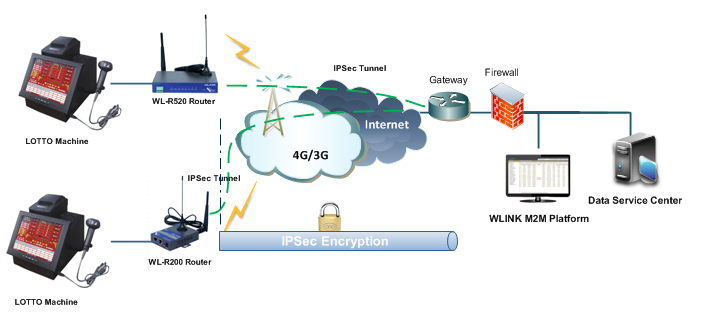 Benefit
No expensive construction and installation as fiber or DSL.

Extremely flexible

Easy network deployment & maintenance

Security, stability and Reliability

Robust design for auto-reboot and auto-recovery to ensure the stable and reliable connection.
Related Products
WL-R520 series 4G/3G Router
WL-R200 series 4G/3G Router
WL-R100 series 4G/3G Router
WLINK M2M management platform (Optional)