Background
Smart agricultural irrigation system combines 4G/3G/NB-IoT network and automatic control technology to implement precision irrigation, based on actual water requirement of crops and information technology to improve irrigation accuracy. The system can automatically sense when and how long the irrigation is needed. Not only the Smart agricultural irrigation system can improve the utilization rate of water resources and alleviate the contradiction of increasingly tense water resources, but also increase the crop yield and reduce the cost of agricultural products.
Wlink Solution
Equipping with WLINK 4G/3G/NB-IoT modem \ RTU enable the system send farm meteorological data and soil moisture data to the data center over wireless network. The data center will analyze the data and compare it with the special irrigation threshold. When data is up to irrigation threshold, the data center will send irrigation command to WLINK Cellular Modem \ RTU to turn on solenoid valves and startup the pump to irrigate the crops according to the preset irrigation mode.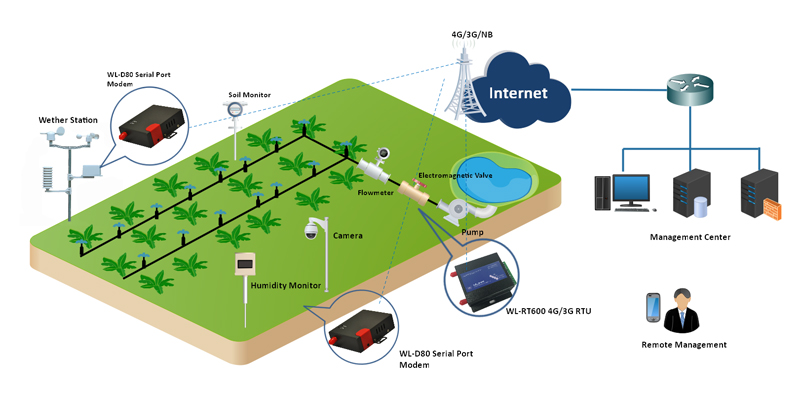 Features
Usually, the smart irrigation system includes Data Acquisition, irrigation control, wireless communication, data processing and fault detection features.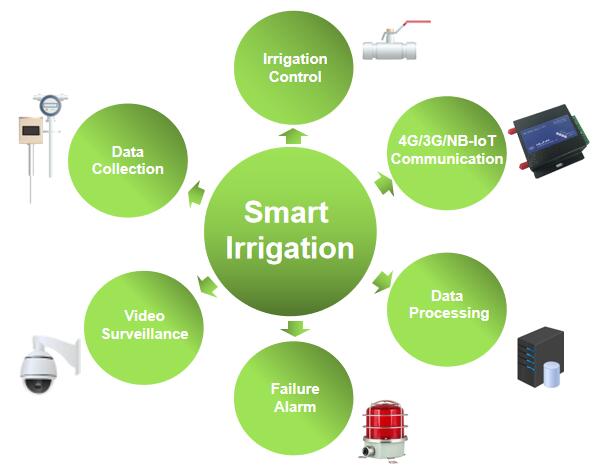 1. Data Acquisition
The automatic weather station and the soil moisture sensor regularly acquire data
2. Irrigation Control
By controlling the solenoid valve to start and stop the pump to achieve various irrigation modes such as automatic irrigation, timing irrigation, periodic irrigation and manual irrigation.
3. Cellular Data Communication
Using WLINK 4G/3G/NB-IoT modem/RTU to send meteorological and soil moisture data to data center over mobile network, and also provide data transmission channel to remotely control solenoid valves in data center.
4. Data Processing
4.1 System setup
Configure data acquisition period, acquisition interval, system execution conditions and other parameters.
4.2 Data display and printing
The collected data can be displayed in real time, and can be expressed by charts and print operations.
4.3 Send Control Command
The command will be sent to the data acquisition control module through the 4G/3G/NB-IoT module to control the on/off the solenoid valves.
4.4 Automatic irrigation
The irrigation work is automatically implemented when the system value reaches the preset Irrigation threshold.
5. Failure alarm
Once the irrigation system fails, such as a water pipe rupture, zero water pressure, sensor, motor or solenoid valve failure, the fault warning light will flash and the alarm will beep. The solenoid valve will close and the pump will stop running immediately.
6. Video Surveillance
Remotely monitor the irrigation process and crop growth through video.
Benefits
1. A variety of irrigation modes are selectable according to specific conditions of construction area. It might maximize the utilization rate of irrigation water.
2. With 4G/3G/NB-IoT wireless network technology, remote monitoring of irrigation has been realized, which might reduce work intensity.
3. Data Processing and Analysis System can make quantitative evaluation for water demand information according to different crops in different growing stages and in different areas.
4. Precisely control irrigation water and save water.
Related Products
WL-D80 serial port to IP 4G/3G/NB-IoT modem
WL-RT600 4G/3G RTU
Industrial robust, heavy-duty metal enclosure for extreme environments

4G/3G/NB-IoT network optional

Strong electromagnetic interference Resistance

Built-in watch dog, Multi-link detection

Multiple operation modes

Rich Serial and I/O interfaces

Programmable for user-defined I/O and Modbus

Flexible and practical data communications

Built-in RTU Clock

Data storage optional

Friendly configuration tool

WLINK RTU Management Platform