Background
With the rapid development of E-Business, the express logistic industry is also developing fast in recent years. More and more logistic companies add delivery and collection service, managing package for the apartment, condo residents, college dormitories and public offices etc. As the demand on higher delivery efficiency & lower delivery cost increased, smart package lockers are widely deployed to solve the "last mile" delivery problem and achieve centralized delivery. When parcel arrives, the courier staff enters a mobile number and places the package in a secure locker, the recipient are immediately notified through text message with a password, and could go to the lockers to pick up their parcel at any time they are convenient.
For the express logistic company, they can realize unified management of lockers in different locations including remote monitoring, remote control etc.
What role does WLINK 4G Router in the whole system?
As we know the parcel lockers are distributed throughout apartment, condo and other public location. Traditionally, the network relied on cable Fiber/ADSL to provide network connectivity for sending message and connecting to the server centre. However, there are quite a large number of location lacking wired coverage condition or it is expensive and difficult to deploy wire network infrastructure.
That is why we need a 4G mobile router in the system, obviously, the main role for WLINK 4G router is Provide reliable mobile network connection for machine-to-machine communication and data transmission. Small partial of the whole system, however, so important it is.
Using WLINK industrial wireless 4G router, the package lockers can work at unmanned delivery destination. Each locker is equipped with a 4G router that provides connectivity and intelligence to permit/forbid access to lockers based on one-time-used code, carries backhaul traffic to the lockers operation center.
Besides, WLINK also provide Powerful cloud M2M management platform for the centre operator to easily monitor and management the remote router. With the cloud platform, it is easy for the operator to monitor, configure, upgrade firmware and manage the large quantity of WLINK routers remotely.
Solution Topology Diagram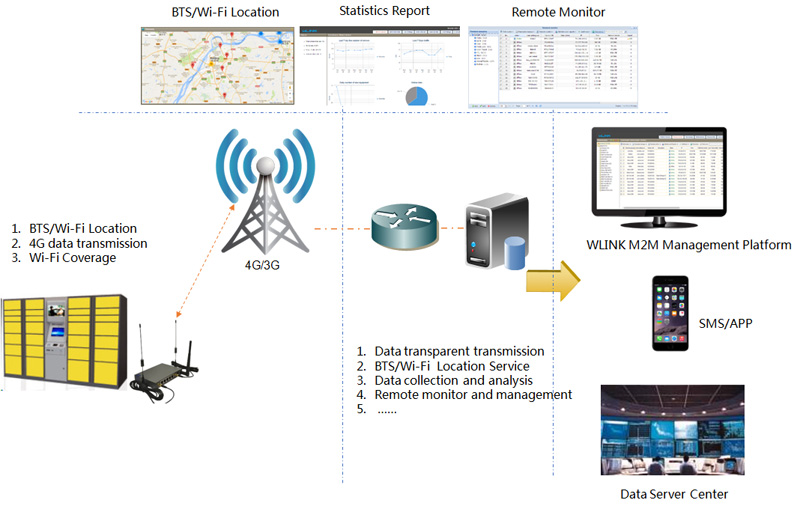 The benefi to equip with WLINK Industrial 4G/3G router in Package lockers system:
1. Easy to install.
WLINK series compact designed router can be installed flexibly in any place covered by 3G/4G cellular networks, and automatically access to the Internet after simple settings on web.
2. Cost-effective
Without fixed-line trouble, WLINK router help to save more than 30% of the total cost comparing a wired network deployment. Moreover, the optional GPS feature supports accurate location query, thus to save manual maintenance cost.
3. Secure and stable data transmission
WLINK router is built-in hardware & software watch dogs and multi-detection, capable of automatic fault detection and recovery.
4. Industrial design for harsh working environment
Always online to ensure continual connection, which helps to truly achieve 7×24 hrs service.
5. Powerful M2M management platform
The cloud based M2M management software allows the operation center to monitor, configure, control their routers remotely. The management capacity is up to 1,000,000+ units devices.
Successful Case
HIVE BOX is a self-service and high-tech smart locker applying IoT technology for unmanned parcel delivery and collection offered by SF EXPRESS, the biggest express logistic company in China. WLINK domestic marketing team has cooperated with HIVE BOX to install 50,000+ units our router in their smart parcel lockers which are deployed different apartment.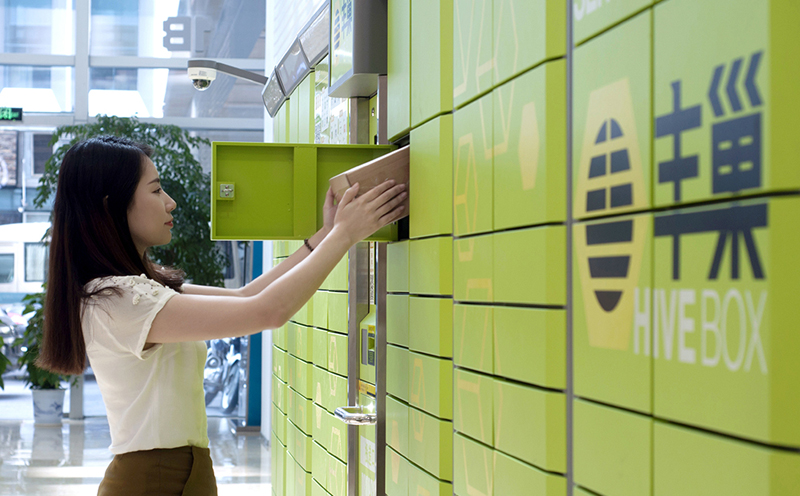 Because the HIVE BOX are secured, they can be installed in open areas, allowing for 24/7 package pickup. Thanks to the HIVE BOX and WLINK Router, the resident (recipient) no longer needs to stay home and wait for the package. When parcel arrives, the courier staff simply enters recipient's mobile phone number and places the package in a secure locker. A notification SMS message with password will be sent to the recipient. The recipient goes to the locker, enters the password and opens the locker to pick up his parcel at any time he want. So easy and convenient!