Background
With the rising in popularity of Internet of Things (IoT) technologies, more and more cities are building IoT applications for public utilities. Because NB-IoT is able to offers deep coverage and massive connections with low power consumption, it is an ideal network communication technology for irrigation work.
Wlink Solution
One of such applications is Intelligent water solution based on NB-IoT and public cloud services. Water supply enterprises build a cloud-pipe-device meter reading system for remote collection and analysis, providing users with more accurate and convenient services and refining enterprise operations.
Equipping with WLINK NB-IoT Modem in water pipeline network is able to transmit the data wirelessly, which is an ideal solution to replace with 2G/3G or wired line because of its low power consumption advantage.
The main role of WL-D80 series NB-IoT modem WLINK provide is as the remote data transmission unit to transmit data real-time and reliably to data server center.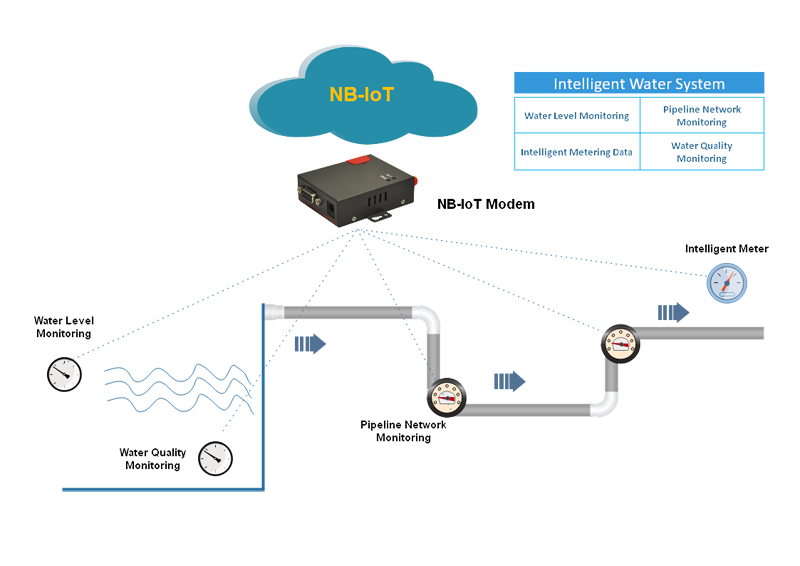 Adavantage
1. The solution uses a grid-based water meter system to monitor the pipe network in real time, which can help locate pipeline failures quickly and reduce water leakage.
2. This solution enables real-time data backhaul. Related datas, such as quality, pressure, and temperature, can be managed elaborately and visually to enhance the capabilities of water utilities.
3. Made you easy to improve the organizational efficiency, hastening speed to market and better serving customers.
4. Cost-effective, 30+% cost savings
5. Rapid deployment
6. Return on Invest
Related products
WL-D80-N-2 serial port to IP modem
WL-D80-N-22 Dual serial port to IP modem