1. Background

With the rapid development of modern logistics industry, the demand for storage space is growing. Subsequently, there may be cargo blocking the fire hydrant, occupying the fire passage or escape door, short circuit of the circuit, temperature, humidity, water level and pressure of the fire hydrant do not meet the requirements, and so on, affecting the safety of the warehousing. Therefore, it is necessary to carry out on-line remote monitoring of warehousing.
2. WLINK Solution
Wlink uses the Internet of things technology to integrate into the warehousing monitoring system to replace manual detection. On the basis of big data collection, data analysis, fault prevention and emergency alarm are carried out to provide timely and accurate data services and effectively improve the level of warehousing safety management.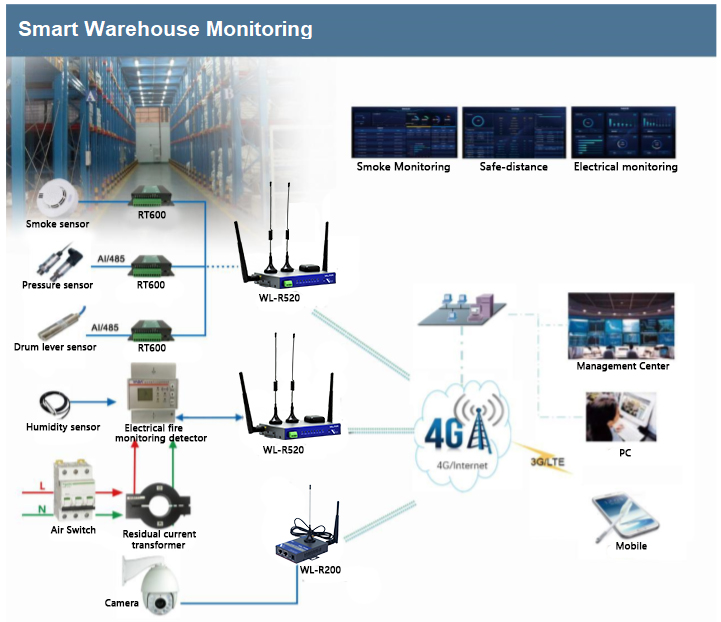 2.1 Electrical Safety Monitoring
When the current, temperature and other parameters of electrical equipment are abnormal, the residual current transformer, temperature sensor and so on will send the data to the detector, and also to the monitoring center for identification and judgment. When it is confirmed that there may be a fire, the Wlink Could M2M Platform will send a fire alarm and SMS to inform relevant staffs.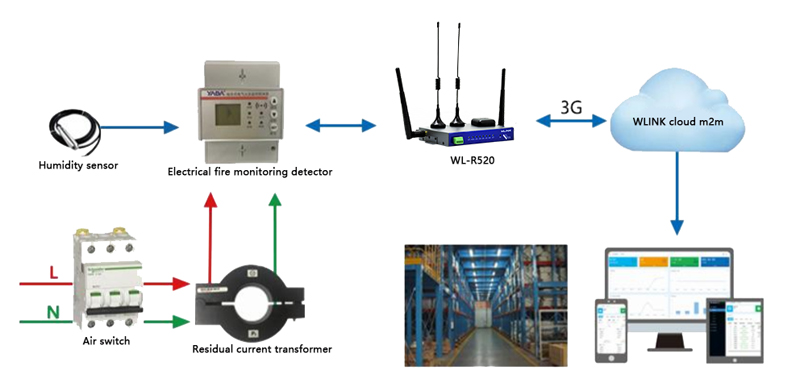 2.2 Fire Exit Monitoring
The fire exit monitoring diagram includes IP cameras and Wlink wireless router WL-R200. When IP cam captures illegal pictures through intelligent algorithm, WL-R200 will send them to Wlink Cloud M2M Platform through 3G/4G network, and the platform will immediately send an alarm SMS to inform relevant staffs.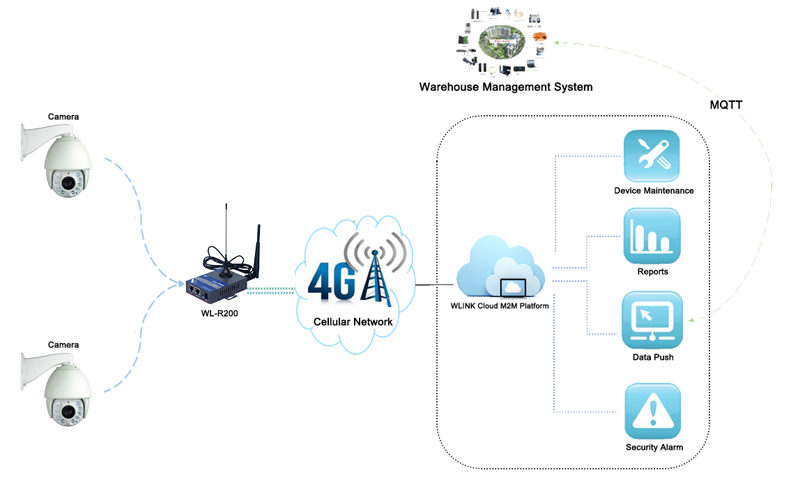 2.3 Fire Pipe Network Monitoring
The scheme mainly includes pressure sensor, liquid level sensor installing on the fire pipe network, and Wlink remote terminal unit WL-RT600. WL-RT600 sends data from these sensors, namely water level of water tank, fire-fighting equipment pressure and sprinkler pressure, to Wlink Cloud M2M Platform in real time through 3G/4G network. Once the platform detects abnormal data, it will send an SMS to inform relevant staffs.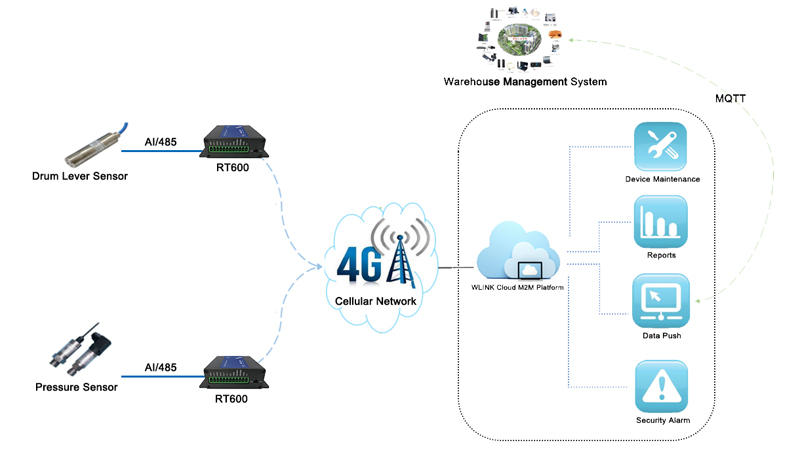 2.4 Smoke Monitoring
RTU WL-RT600 reads smoke signal, switch signal and battery voltage signal collected from wireless smoke sensor, which is powered by battery, and then send these data to the server through 3G / 4G network. When there is a fire, or the sensor is removed and other abnormal conditions, the sensor triggers an alarm in time, the WL-RT600 send the corresponding alarm information to the server, and then Wlink Cloud M2M Platform will send an SMS to inform relevant staffs.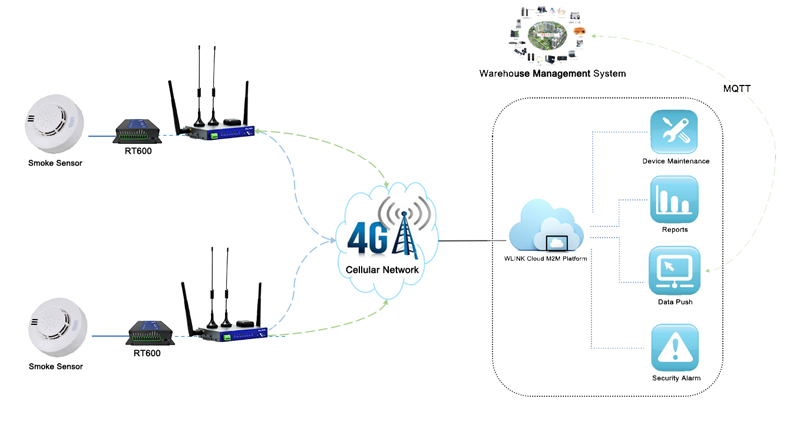 2.5 Monitoring Status Display
Display contents can be customized according to requirements.
1) Warehousing Security Monitoring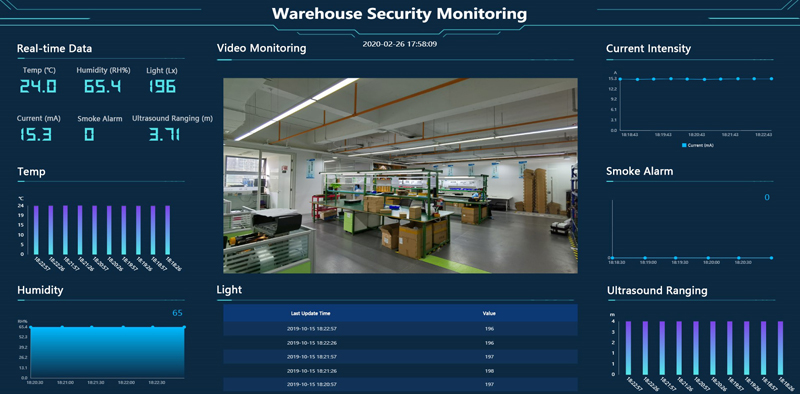 2) Electrical Monitoring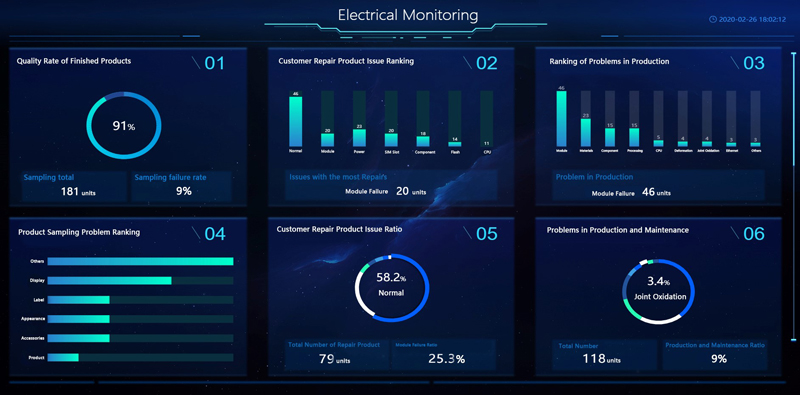 3) Smoke Monitoring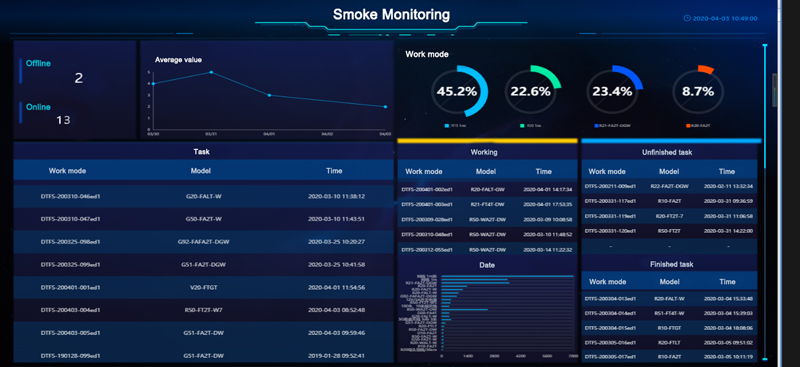 3. Related Products
3.1 WL-R520 and WL-R200 series 3G/4G router
Industrial robust design and compact metal housing

Strong electromagnetic interference Resistance, heat endurance and radiation ability

Ultra security, VPN: PPTP, L2TP, GRE, IPSec and OpenVPN

Built-in watch dog, Multi-link detection

Always online, reboot automatically if disconnected to ensure continual connection

WL-R520 support dual SIM backup or failover, WL-R200 with single SIM
3.2 WL-RT600 RTU
Industrial robust, heavy-duty metal enclosure for shock and high vibration environments

Strong electromagnetic interference Resistance

Built-in watch dog, Multi-link detection

Multiple operation modes

Rich Serial and I/O interfaces

Programmable for user-defined I/O, Modbus and CANBus.
-- The end