Background
Traditionally, automated teller machine (ATM) transaction have been transferred via fixed-line connection, one of the challenges of fixed line is that it is difficult and inconvenient to install and setup in some location such as shopping mall, subway station and make placement and relocation expensive and time consuming for financial institution. To eliminate this problem with customers, WLINK provides a cost-effective and time-saving method to deploy ATMs in new and remote location by wirelessly.
With WLINK industrial class 4G/3G Router, we enables ATM transaction processing with industrial standard encryption over mobile cellular network for fast and easy ATM installation, operation and relocation. The WLINK 4G/3G Router can access to bank center network based on the band's existing IP infrastructure, and realize remote secured data transmission by wireless without changing the existing bank network infrastructure. Just by adding a WLINK 4G/3G router to the existing structural, the retail bank and financial institutions can easy to improve the organizational efficiencies, hastening speed to market and better serving customers. It is true "plug and play" solution allowing for simple deployment.
Application Topology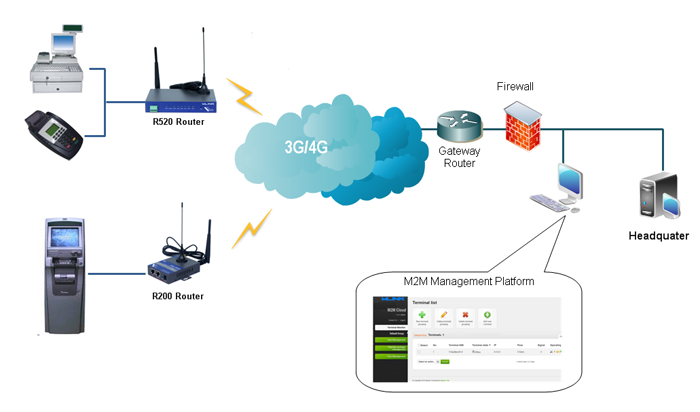 Features

Offer the reliable and secure high speed connection on cellular network

Enable fast and easy ATM installation, operation and relocation

Re-connect automatically to ensure continual communication.

Support up to 10,000+ simultaneous connections in real time

Support operation center monitoring

Ensure ATM transaction data security via IPSec encryption

Data availability within seconds

GPS position information (optional)

Robust design for auto-reboot and auto-recovery to ensure the stable and reliable connection.
Benefit
Avoid fixed-line infrastructure trouble

Made you easy to improve the organizational efficiency, hastening speed to market and better serving customers.

Cost-effective, 30+% cost savings

Rapid deployment, flexible relocation

Return on Invest
Related Products
WL-R520 series 4G/3G Router

WL-R210 series 4G/3G Router

WL-R200 series 4G/3G Router

WL-R100 series 4G/3G Router