Background
Automatic meter reading(AMR) system is the technology of automatically collecting consumption, diagnostic, and status data from water meter or energy metering devices (gas, electric) and transferring that data to a central database for billing, troubleshooting, and analyzing. This system based on mobile communication technologies, and uses WLINK DTU as remote data transmission unit to transmit data real-time and reliably to data server center. The system saves utility providers the expense of periodic trips to each physical location to read a meter. Furthermore, the application is also suitable for water and power meter reading application.
Topology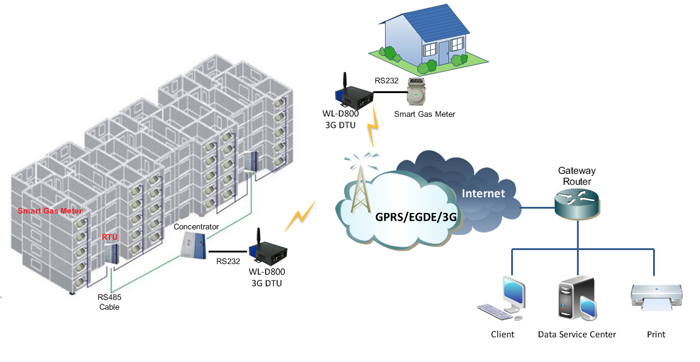 Features

Accurate meter reading, no more estimates

Improved billing

Accurate profile classes and measurement classes, true costs applied

Improved security and tamper detection for equipment

Energy management through profile data graphs

Less financial burden correcting mistakes

Improved billing and tacking of usage.
Related Products
WL-D800 series 3G/GPRS DTU(serial port to IP modem)

Optimized EMC design

Standard PPP, TCP/IP and UDP/IP protocol

RS232/RS485/RS422 interface options

Always online.

Automatically attaches 3G/GPRS when powered on, and utomatically redials whenoff line and keep line alive

Offline when idle and triggered online by user data, ring or SMS

3G/GPRS channel and SMS mutual backup

Supports up to 3 data service centers communications